Recent publications

Štvrtok, 17. február. 2022
The analysis "Exploring macroeconomic imbalances through EU Alert Mechanism Reports" by Filip Ostrihoň is temporarily available online for free.
Pondelok, 7. február. 2022
You are invited to register to the 35th edition of scientific conference EKOMSTAT which will take place in Trenčianske Teplice from 15th May to 18th May 2022.
The Institute of Economic Research of the Slovak Academy of Sciences is looking to hire a young research assistant, with skills in data processing and the willingness to learn.
Research Departments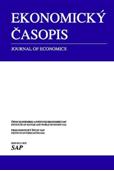 Journal for Economic Theory, Economic Policy, Social and Economic Forecasting - brings out articles, discussions and analytical studies from the fields of economic theory, economic policy, socio-economic forecasting, monetary theory and policy, corporate management, banking, mathematical modelling, cross-sectoral and industrial economies, as well as of regional and social development. It deals with the issues of the world economy, the process of globalization, and the European integration. It also publishes articles from the disciplines of history of economic thought, national economy, review of theoretical studies and reports from the scientific life, and presents profiles of influential Slovak and foreign economist.
© 2022 Institute of Economic Research SAS