Publications - Monographs and Scientific Edited Books
Insights into the Structural Problems of the Slovak Economy II.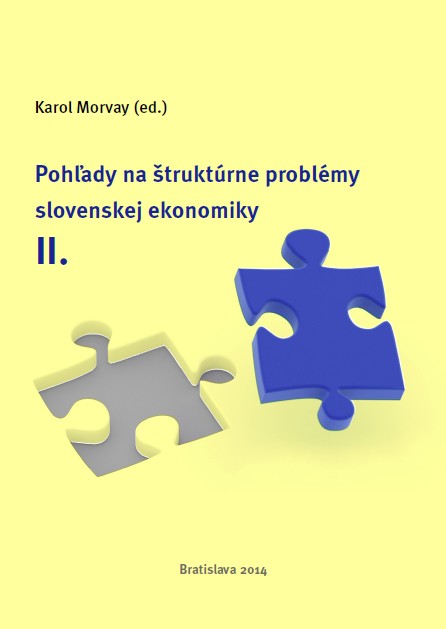 Author
Team
Ing. Ivana Šikulová, PhD., Ing. Ivan Okáli, DrSc., doc. Ing. Karol Morvay, PhD., doc. Ing. Martin Lábaj, PhD., Ing. Tomáš Jeck, PhD., Ing. Karol Frank, PhD., doc. Ing. Daniel Dujava, PhD., Ing. Mária Bednarovská
Year: 2014
Pages: 203
ISBN 978-80-7144-237-0
Download file

(9,85 MB)
This publication was developed as part of the research project focused on structural changes in the economy transition from the middle to high level developed economy. It loosely follows the content of the book "Insights into the Structural Problems of the Slovak Economy" prepared by almost the same group of authors a year earlier. The growth of economy development is inevitably linked with certain structural changes. The growth of the economy is realized through structural changes: the internal structure converts with the achieved growth. The growth of the economy is almost never uniformly spread across the whole economy.
We have tried to deal with various aspects of the structural change process: they have different symptoms; however, they are not isolated from each other. Therefore, the part of the attention is focused on the coherence of variously understood structural changes. The structural changes are not seen as self-oriented isolated processes. We have tried to cover the connection between the structural changes and the catching-up process to the most developed economies. We have examined the relation between real, social and price convergence. The chapters of the book are focused on these issues:
• Why is there a discrepancy between the real convergence and income convergence? How can the changes in the composition of economy affect this mismatch?
• What are the relationships among the real, social and price convergence for the former transition economies? Is the change of service sector position going to make a difference?
• What are the barriers for the strengthening of SME's innovative activity and for their improvement in the position of the economy structure?
• How is the regional structure changing and how it is affected by the implementation of cohesion policy?
• How are the FDI affecting the structure of the economy? And what is the EU funds influence?
• Is there a connection between higher economic performance and more focused specialization in the structure of production activities? Or rather with broader diversification?
• How can we explain that in the income structure, the wages have weak (and weakening) position?
The research project (and this publication is the partial outcome of it) should come to an identification of barriers to progressive structural changes and find the way how to reduce such a barriers. The economy which wants to grow from an external point of view has to undergo internal changes.  Thus, the size of its components has to change as well as the relationships among them. And that is an unlimited area for the economic research.
© 2023 Institute of Economic Research SAS