Recent publications

Štvrtok, 30. november. 2023
Our colleagues participated in international conferences dedicated to the taxation of tobacco products in Banja Luka and Istanbul.
Pondelok, 13. november. 2023
We would like to invite you to the Empirical Seminar.
Streda, 13. september. 2023
During 13th-14th September The Institute of Economic Research of the Slovak Academy of Sciences will proudly present a total of 12 papers authored.
Research Departments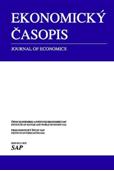 Journal for Economic Theory, Economic Policy, Social and Economic Forecasting - brings out articles, discussions and analytical studies from the fields of economic theory, economic policy, socio-economic forecasting, monetary theory and policy, corporate management, banking, mathematical modelling, cross-sectoral and industrial economies, as well as of regional and social development. It deals with the issues of the world economy, the process of globalization, and the European integration. It also publishes articles from the disciplines of history of economic thought, national economy, review of theoretical studies and reports from the scientific life, and presents profiles of influential Slovak and foreign economist.
© 2023 Institute of Economic Research SAS