Recent publications

The topic of dedollarisation has become popular again, but most economists are sceptical about the idea that the dollar could lose its privileged position as the world's reserve currency anytime soon. Read an interview with a long-time IER SAS staff member, prof. Saleh Mothana Obadi.
The Institute of Economics of the Slovak Academy of Sciences was recently awarded the Green Certificate.
Štvrtok, 15. december. 2022
The Institute of Economic Research of the Slovak Academy of Sciences seeks an experienced researcher to complement its research portfolio.
Research Departments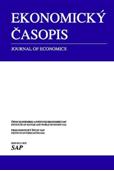 Journal for Economic Theory, Economic Policy, Social and Economic Forecasting - brings out articles, discussions and analytical studies from the fields of economic theory, economic policy, socio-economic forecasting, monetary theory and policy, corporate management, banking, mathematical modelling, cross-sectoral and industrial economies, as well as of regional and social development. It deals with the issues of the world economy, the process of globalization, and the European integration. It also publishes articles from the disciplines of history of economic thought, national economy, review of theoretical studies and reports from the scientific life, and presents profiles of influential Slovak and foreign economist.
© 2023 Institute of Economic Research SAS