Publications - Monographs and Scientific Edited Books
Economic Development of Slovakia in 2019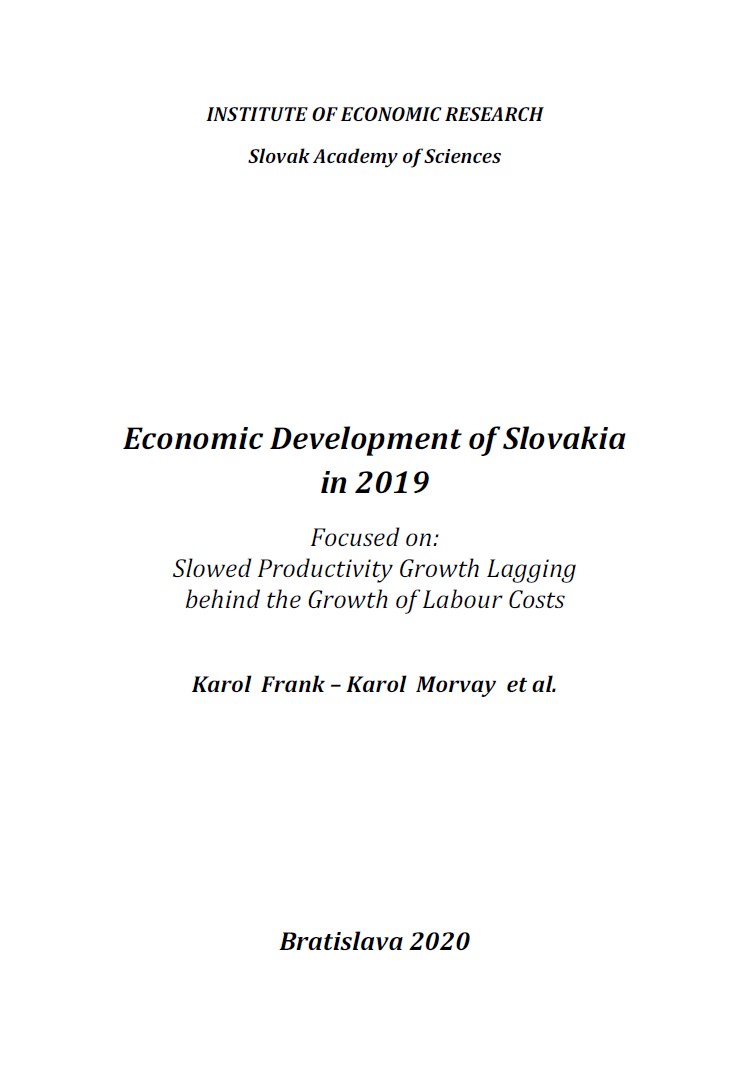 Author
Ing. Karol Frank, PhD., Ing. Karol Morvay, PhD.
Team
Ing. Karol Frank, PhD., Ing. Martin Hudcovský, PhD., Ing. Tomáš Jeck, PhD., doc. Ing. Martin Lábaj, PhD., doc. Ing. Karol Morvay, PhD., Ing. Mária Širaňová, MA., PhD.
Year: 2020
Pages: 130
ISBN 978-80-7144-313-1
Download file

(3,26 MB)
Since the establishment of the Slovak Republic, the Institute of Economics SAS has been publishing its views on the economic development of Slovakia yearly along with the short-term outlook. It tries to uncover changes in trends and unique challenges for the current period. Although the annual publication primarily depicts the development trends in the past year, it also tries to place the picture of current developments into a broader time frame.
The current analysis arose in a unique situation: At the time of writing, it was already known that the economy was falling into a deep depression caused by a global pandemic. And so, in the background of the evaluation of development tendencies and problems of the economy, there was already the vision of a shock that would change a lot. The depicted summary of the Slovak economy development is a description of the state that the economy reached just before the global depression.
As the main issue, this year's publication pays particular attention to a phenomenon that has not been short-lived and also has implications for the future: it is a problem of weakening productivity growth and its lagging behind labour cost growth. This problem is unlikely to lose its professional and research attractiveness even after overcoming the current depression. It is a phenomenon that was not characteristic of the Slovak Republic in the past. On the contrary, the Slovak Republic was among the leaders in the growth of labour productivity; the growth of labour costs mostly lagged behind the growth of productivity. It was a pillar of the Slovak economy competitiveness. In recent years, however, productivity growth has slowed significantly as labour cost growth accelerated.
In the beginning, we bring a summary view "from above", then the view narrows down to a more detailed analysis of sub-topics in individual chapters: These focus on sectoral specifics, the labour market, price developments, competitiveness factors, the implementation of policies or the measures taken. In the final part, we provide opinions on issues of future development.
Due to the unpredictable extent and duration of depression, we scaled down the character of the last chapter in this issue. Traditionally, the final chapter provides the outlook for the next two years, with a quantification of the basic parameters. In this publication, we have temporarily limited our ambitions: we try to indicate a more likely scenario, expected side effects and impacts on a qualitative level. With a short-time interval (approximately a quarter), we will prepare a more detailed updated outlook, with quantifications of the expected development of selected parameters.
© 2023 Institute of Economic Research SAS