Publications - Monographs and Scientific Edited Books
Economic Development of Slovakia in 2018 and Outlook up to 2020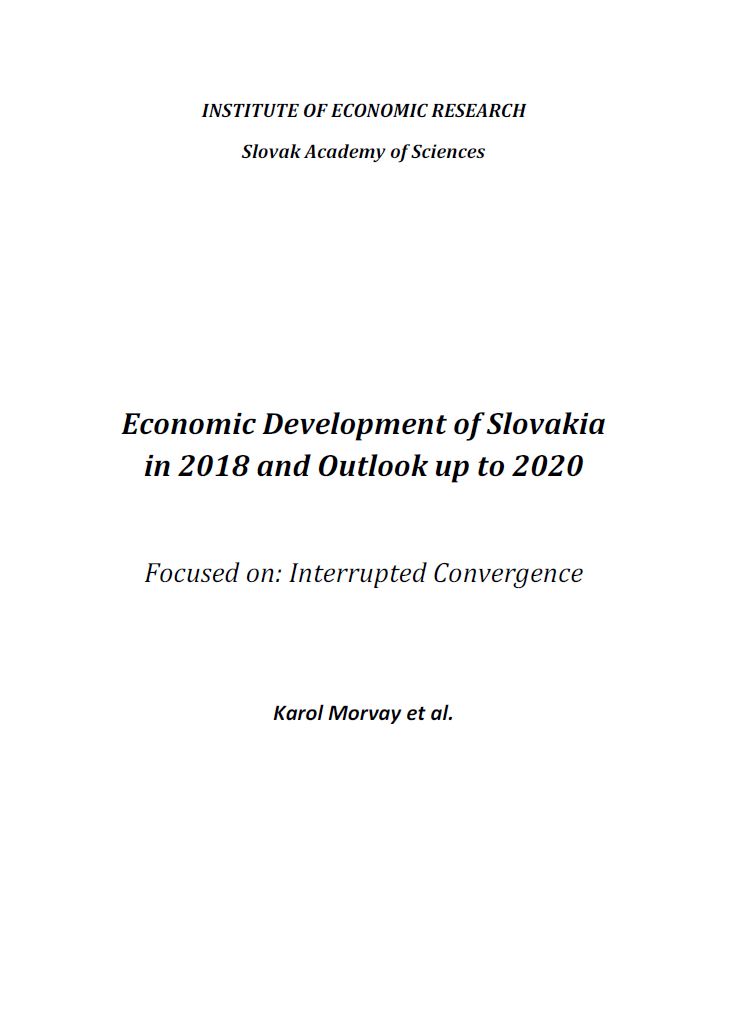 Author
Team
doc. Ing. Karol Morvay, PhD., doc. Ing. Martin Lábaj, PhD., Ing. Tomáš Jeck, PhD., Ing. Martin Hudcovský, PhD., Ing. Karol Frank, PhD., doc. Ing. Daniel Dujava, PhD.
Year: 2019
Pages: 117
ISBN 978-80-7144-304-9
Download file

(2,74 MB)
The tradition of publishing the Economic Development of Slovakia is as long as the existence of an independent Slovak Republic. Since 1993, the Institute of Economic Research of the Slovak Academy of Sciences prepares its annual analytical and evaluation overview of the Slovak economic development. There are specific years mentioned in the title of the publication. However, we also try to put the latest developments into the context of the longer development trends.
Compared to the previous years, we bring a new innovation this year. Starting this year, the Economic Development of Slovakia publication will pay attention to some cross-field phenomenon shared in all areas of the economy. The topic of this publication is the interruption of real convergence in recent years because the catching-up process of the Slovak economy to the most advanced economies has been interrupted. We use the term "interrupted convergence" because the jamming or interruption as a process is only a temporary situation, and it can be re-established and run again. Therefore, we also see the problem of real convergence in this perspective – as temporarily blocked with the possibility of the new release.
On the other hand, other topics have also been part of economic debates in Slovakia recently – the issue of labour shortages or increasing pressure on wage growth resulting in changes of country competitiveness. These and other topics could not be missed in this year's publication.
In the individual chapters, the attention is paid to the evaluation of the economic level and performance of the economy and its economic policy, the development of the labour market, the changes in the price level as well as measures that changed the economic environment. However, in several chapters dealing with other sub-topics, the connection with the central topic (convergence) is also sought.
After the initial overview of the economy, there is plenty of more detailed views on the sub-topics to finally return to the synthetic perspective and outline the expected developments in the near future.
© 2023 Institute of Economic Research SAS