Publications - Working Papers
WP 104 Income stratification and polarization in the regions of Slovakia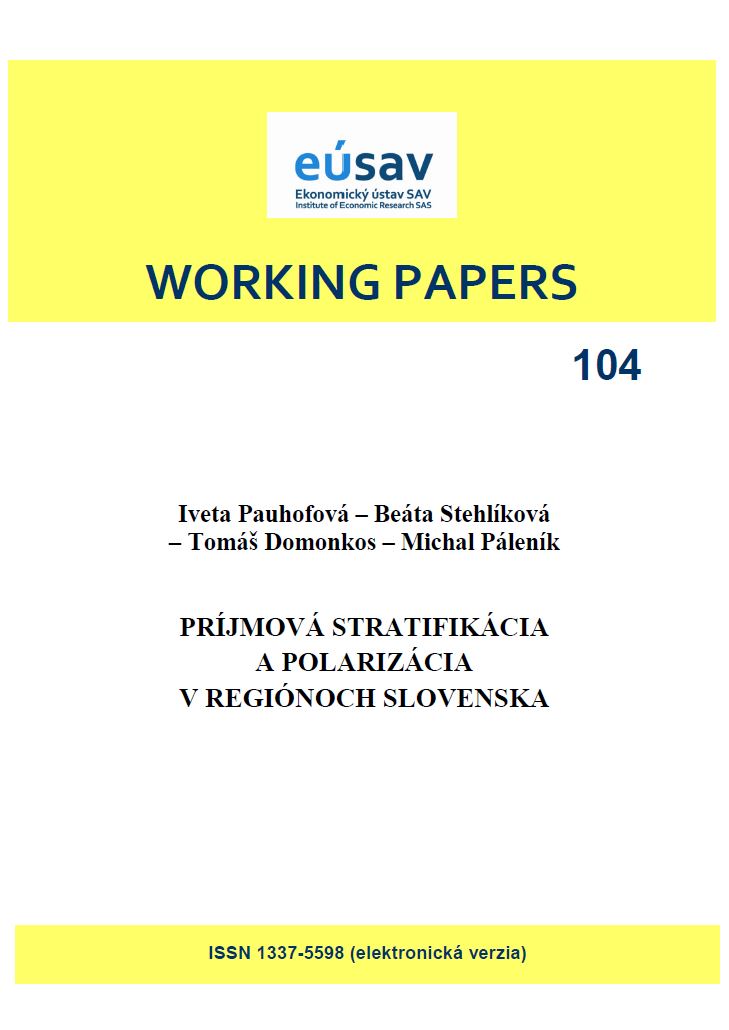 Author
doc. Ing. I. Pauhofová, CSc., prof. RNDr. B. Stehlíková, CSc., Ing. T. Domonkos, PhD., Ing. Mgr. M. Páleník,
Team
Ing. Tomáš Domonkos, PhD., Mgr. Ing. Michal Páleník, PhD., doc. Ing. Iveta Pauhofová, CSc., prof. RNDr. Beáta Stehlíková, CSc.
The thesis examines the wages and income stratification at national and regional level. Thereafter, the development and status of employees who earn wages below and slightly above the minimum wage in the Slovak Republic are surveyed. We also present the allocation of poor working and poor pensioners in the districts of the SR. For the first time, Foster-Wolfson's indexes for wage and income polarization are calculated for Slovakia. The results are spatially displayed at district level using significant Moran coefficients. When examining wage and income polarization, we do not neglect global risks and emerging trends, particularly economic, social, technological and environmental. We are thinking about whether a Slovak society, in which there have been unified revenues in the past, is currently polarized accordingly. We present and interpret the results of research at the national level, level of regions and districts of the SR. We are working with a robust database of the Social Insurance Agency for the years 2005 to 2017. These are administratively monitored individual data on wages, incomes and pensions of Slovak citizens.
© 2023 Institute of Economic Research SAS