Publications - Conference Proceedings
Inclusive growth and employment in Europe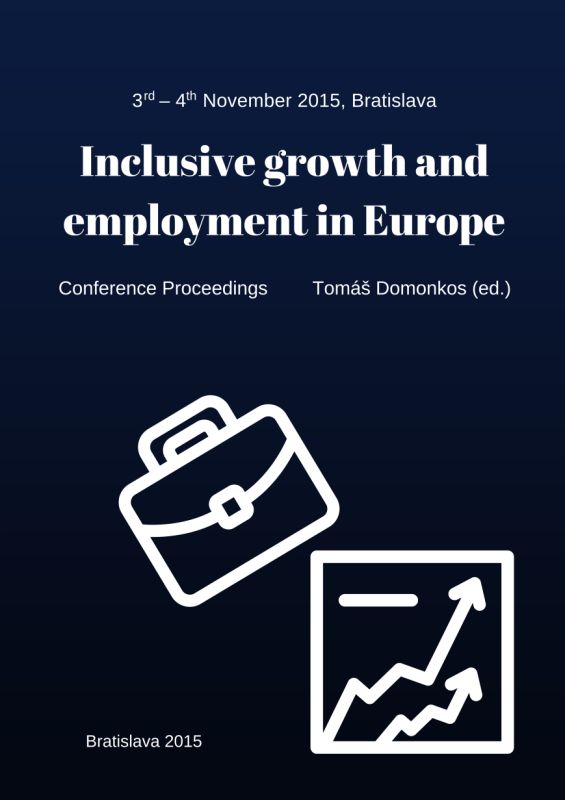 Author
Team
doc. Ing. Tomáš Želinský, PhD., Jiří Večerník, Jakub Valovič, Ľubica Šebová, doc. JUDr. Ing. Ján Šebo, PhD., Ing. Filip Ostrihoň, PhD., Martina Mysíková, Ivan Lichner, doc. Ing. Brian König, PhD., Ing. Miroslava Jánošová, PhD., Ing. Róbert Chovanculiak, Ing. Michaela Chocholatá, PhD., Gerald Groshek, Ing. Andrea Furková, PhD., Ing. Gabriela Dováľová, PhD., Ing. Tomáš Domonkos, PhD.
Year: 2015
Pages: 158
ISBN 987-80-7144-252-3
Download file

(4,72 MB)
The conference proceedings Inclusive growth and employment in Europe is the presentation of results of equaly named international conference, which was held on 3. – 4. of November 2015 in the premises of hotel Austrian under the auspices of the Economic Institute SAV. The topic of conference resulted from the current significant economic and social uncertainty, which required the adoption of different action at European level, which could significantly affect both the economic and social sphere of life in the different Member States.
This conference proceeding contains contributions which were presented at the conference and are a crucial part of our concent of the conference proceeding. Individual contributions are placed in alphabetical order. The contributors present the latest findings from labor market, social security, modeling of the labor market, poverty, inclusive growth and market policies creation.
© 2023 Institute of Economic Research SAS