Publications - Others
Neoclassical and Keynesian View on a Growth of Economy of SR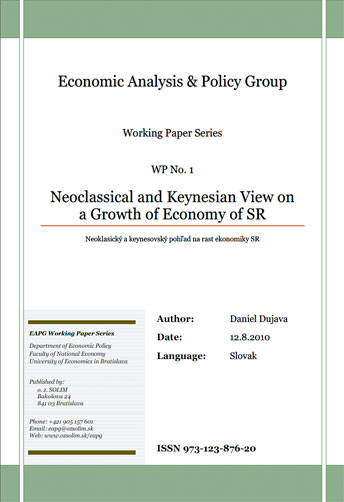 Author

doc. Ing. Daniel Dujava, PhD.
Year: 2010
Pages: 70
ISSN 973-123-876-20
Download file

(601,08 kB)
Abstract
In the study we focus on theoretical and practical aspects of neoclassical models of economic growth, i.e. Solow-Swan model and Ramsey-Cass-Koopmans model and keynesian Kaldor model. We explain theory of Solow-Swan model and calibrate parameters of the model according to economy of Slovak Republic. We compare Solow-Swan model to Kaldor model and estimate main functions of Kaldor model for the economy of SR. We explain means of making propensity to save endogenous in Ramsey-Cass-Koopmans model and we examine whether endogenous propensity is useful in describing economy of SR.
Keywords:
Economic growth, Harrod-Domar model, Kaldor model, Ramsey-Cass-Koopmans
model, Solow-Swan model, technology growth
JEL classification: B22, E20, O11
The study published by o.z. SOLIM.
© 2023 Institute of Economic Research SAS