Publications - Conference Proceedings
Determinants of polarization of wealth in a globalized world. Present and Future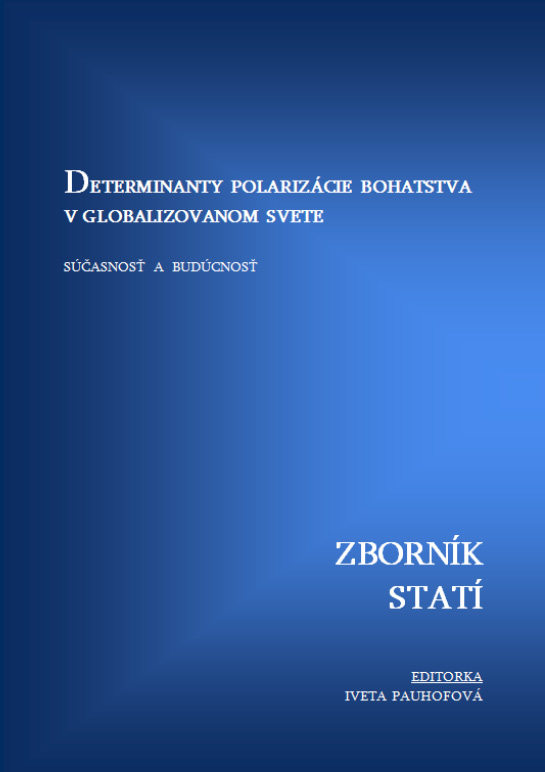 Author
Team
Kolektív autorov
Year: 2012
Pages: 160
ISBN 978-80-7144-200-4
Download file

(1,93 MB)
Finding answers to the fundamental questions of our civilization development , which scientists called the Anthropocene. It means that  human epoch, is currently intensifies and becomes more pronounced cross-cutting nature and complexity at the same time.
The reason is not only the onset of the turmoil of social and economic processes, but is still not fully answer the questions of the relationship of man and space Gaia system processes.
We bring proceedings papers to reader, whose ambition is to show the areas in which they expose important issues related to the possible developments of the global society. Concerned determinant issue of wealth polarization in the globalizing society is part of the investigation paradigm changes of  future development in the 21st century on land of Institute of Economic Research, in cooperation with other domestic and foreign academic institutions.
Efforts to cross-sectional research problems determinants polarization of wealth in a globalized world is ensured by defining the structure of the proceedings and the participation of States whose authors are experts in various scientific fields and disciplines, and have also experience with the application of research results in practice. Expectations "subsides" current crisis, which takes different attributes due to the form and content of its impact on society had influenced the alignment posts to make it clear that determinants are key to polarize wealth and society and guiding the reader to the formulation and custom questions what actually the polarizing society goes. Not by chance is the impact of financial markets on the polarization of wealth, income polarization in developed economies and the complexities of action of regional factors associated state, which deal with issues of ethics and morality, as well as issues of development of information technologies and their impact on the polarization of society, to influence individual and selected groups. Intersectional presented to provide a solid example of the impact of globalization on small state, while touching the Czech Republic, but also well-mirror can be adjusted to other small countries in the European area. Context of the development of society, primarily based on consumption, and the polarization of wealth, as well as the results of analyzes, documenting the consequences polarized society based on income inequality and the rich characteristics of the EU, allow appropriate "focus" lens on the issues concerned. Medium to long-term nature of the "vision" of an aging society and the development of detailed "illustrate" a prerequisite for implementing the so-called. silver economy in the future represent the works, which are oriented in income differentiation by age and the possibility of formation of demand on the part of senior citizens in the European area and Slovakia.
© 2023 Institute of Economic Research SAS